Roses To Rock Gardens Tour - In Full Bloom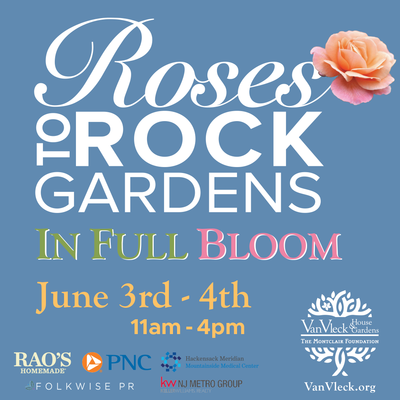 Sponsored by The Montclair Foundation. 21 Van Vleck Street. 10am. Our tour of inspiring gardens will take place in Montclair and Verona on Friday, June 3rd and Saturday, June 4th from 11am -4pm. Admittance to the gardens requires a purchase of the Tour Journal which can be picked up at Van Vleck House on Friday and Saturday of the tour. Each garden may be toured once and the journal must be presented for admittance. The Journal has descriptions of each garden and a map with the addresses of all the properties to tour.

Purchase tickets to the tour on our website – $40 for members, $50 for nonmembers.

Businesses and supporters are welcome to purchase an ad or tribute in the journal. Details are at Vanvleck.org.

Thanks to the ongoing support of our sponsors. Reservations / registration required. For more info: https://app.etapestry.com/onlineforms/MontclairFoundationInc/RTRG2022.html, Info@vanvleck.org, 9735758737.